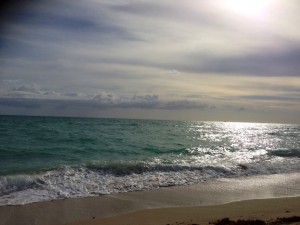 It was a few days into the New Year, and I had finally escaped the cold city for a few days and hopped on a flight to South Florida. I didn't know exactly where I was going to go after my trip to the Keys for a few days, but I desperately wanted to relax and rejuvenate somewhere, and when a friend I met in the Keys invited me to come see the Carillon Hotel and Spa, where she lives on the property, I knew immediately I needed to spend a few days.
The Carillon Hotel and Spa, formerly the Canyon Ranch, is located on Collins Avenue and 69th Street, so close enough to the scene of South Beach if that's of interest, but an oasis onto itself, and in my opinion, you never need to leave the property. Set on the ocean, there are three buildings, the north and south towers, which are residences with their own pools and Jacuzzis, a couple of workout rooms outside with views of the ocean, and the central tower, which houses the hotel, spa, fitness center, health and wellness area, lecture rooms, and an outdoor pool and Jacuzzi overlooking the vast ocean.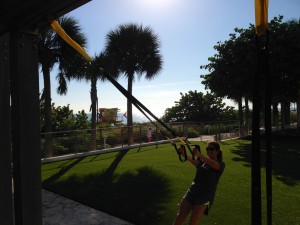 I met one couple who goes once a year for their annual doctor's visit with Dr. Koffler, the medical director at Carillon Hotel & Spa. They followed her from her practice in Chicago. An integrative medicine physician, she works with clients on a number of issues, ranging from weight loss and food allergies to getting to the bottom of whatever ails you. At Carillon Hotel & Spa, you can get advanced, on-site diagnostic testing, and the personalized care to figure out what may be the underlying causes of what is going on in your body, in a non-rushed environment, which we so often encounter at our own doctor's office.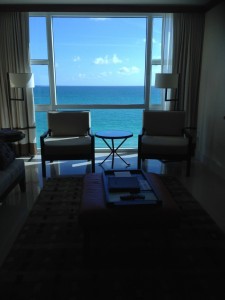 With tons of options, you can make your visit work for you and your specific needs. Many go with specific goals in mind, whether it be physical, mental or spiritual, and some just go to relax and enjoy the incredible spa facilities and participate in the wide variety of workout classes. Aside from setting up your own personal appointments with doctors, spiritual leaders, and therapists, there is a full daily schedule of fitness classes and free informational lectures covering a wide variety of physical and spiritual health and wellness topics. For the typical person from New York or New Jersey, it's easy to get wrapped up in feeling as though you need to do everything. This time around, I did not schedule any one-on-ones, so I used my time to take full advantage of the classes, lectures, spa facilities and a deep tissue treatment, and left time to just lounge on a chair right on top of the ocean listening to the sounds of the waves crash against the shore as I closed my eyes and dozed off into a deep state of relaxation.
Since I wanted to make sure I got a taste of everything, I did the fitness classes I don't usually do at home, like the TRX circuit class, which is held outside overlooking the ocean, and the gyrokinesis class that did a phenomenal job of releasing neck and back tension. The classes in the pool overlooking the ocean, such as tabata, were also quite invigorating and made for great workouts. I even got on the rock climbing wall as part of a rock climbing boot camp class. My muscles definitely got a workout, but when they were telling me how sore they were, I knew I could just hop in one of many hot Jacuzzis, or the Aquavana thermal suite, comprised of several hot and cold therapies to get your muscles to relax and detox. I have been in many steam rooms and saunas over time, but none have smelled as wonderful or relaxed me more than those at the ranch.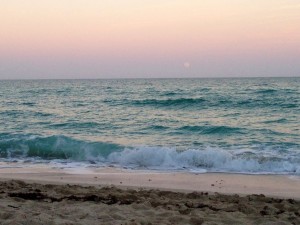 Just one foot into the Aquavana area and I'm certain my blood pressure went down. I let myself enjoy an hour alternating between the Finnish sauna, the igloo, which sprays three different aromas into the air, the crystal steam room, the showers which have three different storm settings to ignite the senses, the hydrospa and footspa, and the herbal laconium, which provides gentle humidity infused with fresh herbs. The heated chairs cradle your back and neck perfectly for complete relaxation. Downstairs is the treatment area, where Richard Herrara worked his magic with my deep tissue massage and bath. The 80 or 110 minute treatment starts with a therapeutic bath infused with Dead Sea salts and mustard products that massages every part of your body, followed by a deep tissue massage. Richard is an incredible therapist who knew the perfect amount of pressure to yield results, while still ensuring a relaxing treatment.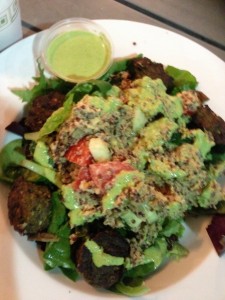 The food at Carillon Hotel & Spa is not only healthy, with all of the calories and fat, carb, protein, fiber and sodium content written on the menu, it is phenomenally delicious. For breakfast one day I ordered the tofu scramble, which was prepared with just the right flavor of spices, a side of delicious smoked salmon and fresh berries with a greens juice on the side. Second day was their Mediterranean breakfast, which was just as amazing. The warm artichoke salad with a side of wild salmon was the perfect lunch to enjoy on the beach. While relaxing by the ocean or pools, there is cabana service, serving food and drinks.
We are very lucky in the northeast to have such an amazing facility so close to home. For the perfect combination of sun, ocean, fitness, wellness, healthy and delicious cuisine, insight and relaxation, look no further than Carillon Hotel & Spa in Miami Beach. It's exactly what the doctor ordered to help with the winter or anytime blues.
http://www.carillonhotel.com