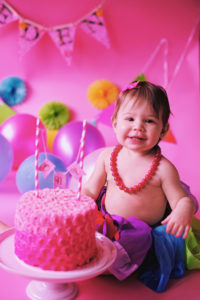 Your child's first birthday is a big deal! And the newest trend is to commemorate it with a cake smash!  You may be wondering what exactly goes into a cake smash. There is no one way of doing it, but usually parents will bring their child to a photography studio or have a photographer come to them to capture their precious angel's first go at a sugar filled cake!  As someone who is very health conscience for my family and especially my baby, the thought of putting an all sugar cake in front of her made me cringe. But I did it anyway.   I did have big plans to make my own healthy cake which plenty of people do, but who was I kidding? I have a one year old.  When do I have time to make my own cake?!  So I went to Magnolia Bakery and they designed a very simple but pretty cake for the photo session. I sent them a picture of my daughter's tutu and shirt she would be wearing and they suggested an ombre of pink rosettes which looked beautiful!  So beautiful that during the big shoot when we were waiting for her to dive head first into the cake, she delicately licked one rosette at a time.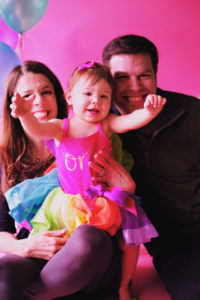 When searching for a photographer, I did a quick google search and then looked through for a few websites for photographers who had experience with kids and cake smashes because it takes a special person to know how to get a baby to smile during a shoot. I still have memories of my daughter peeing on the backdrop during her newborn shoot.  We of course thought it was funny and what do you expect from a five day old baby?  However, this time we decided to do the shoot in our apartment with Andreea B. Ballen Photography. She is also a mom of two little ones with and incorporates her artistic and creative background with the fact that she used to be a doula and loves to bring out the best in babies. She shoots with natural light and a portrait lens, so we didn't need to go crazy on the background.  However, I still wanted to put together a backdrop similar to if we had gone to a studio.  If it wasn't in March and still cold out, we would have done the shoot outside because Andreea's work is gorgeous in the natural light and she knows the perfect angles to shoot to get that magical shot.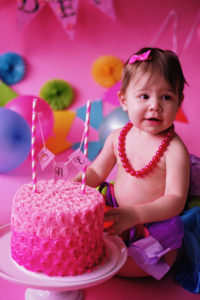 We improvised and did it inside instead near a row of windows.  We were supposed to shoot one evening, but when she came over, she noticed the light was not as good as we had thought it would be, so she came back the next day when it was a lot better.  As part of her photography package, she offers an in-home consultation so you can talk about exactly what you're looking to do.  I thought that was a nice bonus, since it gave my daughter a chance to meet and feel comfortable around her.  We also talked extensively in the meeting and by email about what my vision was for the shoot. After the shoot, she sent us a gallery of pictures from which to choose. She caught some great shots of our daughter before, during and after the cake. She also was able to capture some nice family photos which are great to have because as fun as our selfies are, it's always nice to have some professional family photos.  All of the pictures in this article were shot by her.  
For the backdrop, I ordered a simple backdrop that was easy to put together from B and H Photo and Video. It wasn't the strongest of backdrops but it was perfect for our purposes. I bought a role of seamless coral colored paper to go with it and then went to Party City and got a colorful banner, paper fans and balloons. There were helium balloons on a small weight next to her and then some loose balloons scattered on the floor.  It made for a very festive background to match her colorful tutu from Dancina.  I had picked up a hot pink beaded necklace at the Philadelphia Flower Show a few weeks earlier.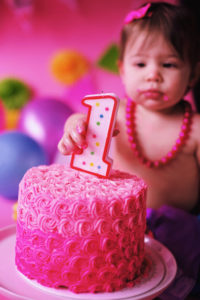 All in all, it was a very fun time.  Andreea captured some great moments in time for us and since I had made my own backdrop, we went for round two later in the day with my camera.  I later had guilt that I let my baby eat so much cake in one day for the sake of a good pictures, but it was worth it.  We all had fun and mom and dad enjoyed what was left of the cake!