This morning I transferred to Castaway Island Resort by boat from Port Denarau and so far it's been a great time with such a friendly and helpful staff in a gorgeous setting.  Unfortunately, it rained for most of the day, which they said they haven't seen in a few months, but the warm breeze still made for a relaxing time.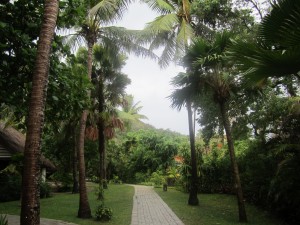 I went for an herbal medicine walk and was shown how plants grown right there have been used to treat all kinds of ailments instead of popping pills.  The sun peaked out for a bit, so I jumped into the blue ocean and went for a swim with the fish on the reef right off of the shore.  After a shower in my own bure (bungalow), I had dinner which was accompanied by great Fijian musicians.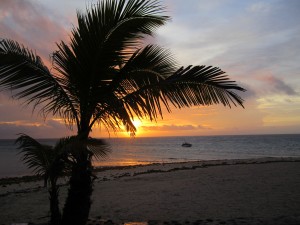 The bure is a wonderful place to stay…modern, yet a true island feel.  I like the bowl of water they put outside your door to wash your feet and shoes after coming from the beach or the Bush Walk, which is a beautiful hike through the mountains to a lookout point over the ocean.  I am waking up early tomorrow for hopefully two scuba dives, so I'm going to sign off for now, but pics and more updates coming tomorrow!