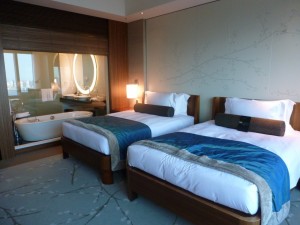 I had never been to Asia, so when a friend told me he was headed to a wedding in Japan and asked if I'd like to go, I was extremely excited to see the city and experience the culture, food, and a Japanese wedding.  I wanted to find hotel properties that exuded elegance with a romantic flair, but was also convenient to all of the popular neighborhoods and things to do see and do.  For the first five days of my stay in Tokyo, I stayed at the Conrad Hilton, Hilton's luxury brand of properties.  I have stayed with Hilton before at some of their other brand properties, and have never had one bad experience so I was eager to try their more exclusive, high-end brand of hotels which includes the Conrad and Waldorf Astoria.  For the record, the hotel lived up and exceeded my expectations.
Upon arrival, you will be taken up to the lobby on the 28th floor, which displays a breathtaking view of Tokyo Bay and the beautiful Hamari park.  This is also where the swanky bar serves up nightly food and drinks to relaxing piano music.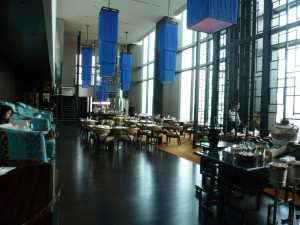 We stayed on the 34th floor which also had a magnificent view of the city and bay.  The rooms were really spacious, especially for a standard room in Tokyo and the beds were most comfortable.  The bathroom had both a shower and stand alone bathtub and a high end toilet to boot, that was heated and  played relaxing music.   Japan is definitely ahead of the curve when it comes to certain items.  Other features which you would expect from a five star property include automatic curtains and shades that are controlled by a knob next to your bed and the same for the blinds that connects the bathroom to the bedroom.  If you have time for a relaxing soak in the tub, you can stare out at the beautiful view from the bathroom.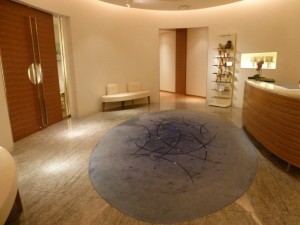 The restaurants, which include Gordon Ramsy's Cerise,, which serves up French cuisine and their Chinese and Japanese options display gorgeous decor and also serve up meals that are second to none.  We dined at the traditional Japanese restaurant, which served a selection of eight courses, all light and full of flavor.  If you choose this option, you will be treated to a wide array of flavors that incorporate both fresh fish and meat.  Their breakfast was a spectacular buffet which included traditional American fare such as eggs, lox, fresh and dried fruit,  and dishes such as soba noodles, and a hot rice cereal to which you can add a mixture of Japanese toppings,
The hotel also features a modern fitness center with a jacuzzi and saunas in the locker rooms, and an olympic sized swimming pool (for an additional charge).  If you feel like unwinding with a spa treatment, the spa is the perfect oasis for a variety of treatments.
Booking a hotel from home before you have arrived in your destination can be challenging when trying to figure out the best location for everything you'd like to do.  There were so many options for hotels in Tokyo that it was tough deciphering the neighborhoods.  However, the Conrad was in a perfect spot, close to two major subway lines.  If you are traveling for business, it is very close to some big cooperations, but also steps away from a bustling nightlife of restaurants and bars.  If you are there for pleasure, you will find getting around the city very easy on the JR subway line, which leaves from the Shimbashi station, which is a 5-10 minute walk from the hotel.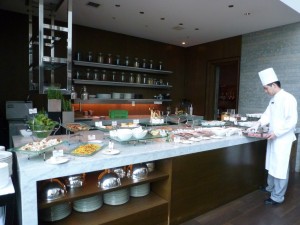 When traveling to Europe, while the languages are different, many people speak English.  However, I was worried about communicating with the locals here in Japan, as some speak a little English, but many don't.  I therefore relied heavily on the concierge at the hotel.  I don't think I've used their services as much as I did on this trip, and they were extremely helpful and informative in helping me plan my itinerary.  Not only were they armed with information on each location, they also made phone calls for me which made it that much easier to set things up.  In a country where you are not familiar with the things to see and do, and communicating may be a challenge, a good concierge is worth their weight in gold.
While in Tokyo, there is so much to explore with many neighborhoods of different character, including the business districts of Shimbashi and Shiodome, the nightlife district of Roppongi, the nerdy electronic district, Akihabara, the famous bustling intersection of Shibuya with its many restaurants and shops, and Shinjuku, with its shops, department stores, and various restaurants.  If you are an adventurous eater, you can try one of many restaurants that will serve such items as heart, gizzard, horse, cartilage etc.  I am usually a very adventurous eater, but even for me, my stomach did not take to this variety!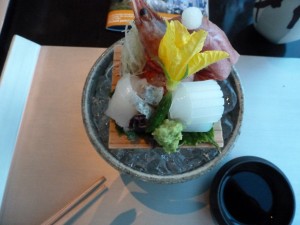 Harajuku is a great spot for young shoppers with the latest in cool hip styles and accessories.   Head to Ueno for a daily market, as well as a feel for "Old Japan."  A must do for your trip to Tokyo is a visit to the Tsukiji Fish Market.  Definitely try to wake up early one morning for the auction.  The auction starts around 5am, but you must get there around 4am for a place in line, as they only accept the first 120 people and then divide into two groups.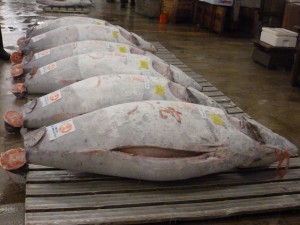 After the auction, head to one of the many sushi restaurants within the market for the freshest sushi in Tokyo.  One place that came highly recommended and lived up to the expectation was Sushi Dai.  I waited 2.5 hours, lining up at 6am, but I was definitely good and hungry when it was my turn.  They take about fifteen people in at a time and you sit at the sushi bar, as they prepare around 12 pieces for you to try.  It is a very efficient meal, as you won't be in there for more than thirty minutes, and you'll pay 3900 yen, which comes out to around 45 dollars, but if you are going to Tokyo, you should try some amazingly fresh sushi.   Tokyo definitely has a lot of character with terrific food, very respectful people, and plenty to do, but if you are guy, beware of possible nightlife scams that target foreigners.  If you meet a girl and she asks you to go to another bar and then to another with her, make sure to never give your credit card and watch your drinks.
So if you are traveling to Tokyo for business or pleasure, do yourself a favor and stay at the Conrad Hilton.  It exceeded my expectations in comfort, food, location and customer service. It's easy to see why they have received numerous awards from prestigious groups and publications over the years.