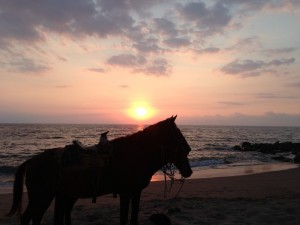 I had always heard Puerto Vallarta was very beautiful and romantic, and it's all true.  When I left for my trip, I had a lot on my mind, but as soon as I arrived at the newly opened Hilton resort, my thoughts began to melt away.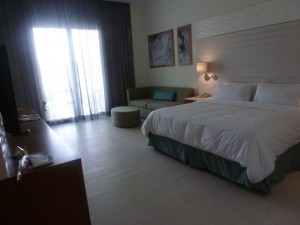 Ideally situated in the hotel zone just minutes from the international airport and the Malecon area, the architecture is gorgeous with a fresh, modern look. Just off the lobby are the restaurants and beautiful beach with incredibly warm water.  For our first night, we had dinner at one of the all-inclusive restaurants, Sea Fire, with a view of a gorgeous sun setting behind the horses on the beach.  The hotel features four ala carte restaurants, one with an international buffet open for all meals, a Mexican, Brazilian, and a French restaurant., and one that features martinis, tapas and a spectacular view of the bay. The gym that I had the best of intentions of using for more than ten minutes has up to date equipment and everything you could need in cardio and weight equipment.  The spa was so peaceful as soon as you stepped inside and their flotarium experience was one of a kind.  You lay in a tub of salt water which is five times heavier than that of the ocean water and you just float for 30 minutes, either with your eyes closed or looking up at what looks like stars in the ceiling.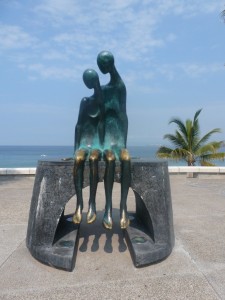 At first, I didn't know if I'd be able to do that for 30 minutes but it was amazing how I felt when I got out.  My body and mind really were relaxed.
While in Puerto Vallarta, there is a lot to see and do.  If you're looking for a true Mexican shopping experience, head down to Malecon area, where you will be bombarded with shop owners trying to sell you anything and everything.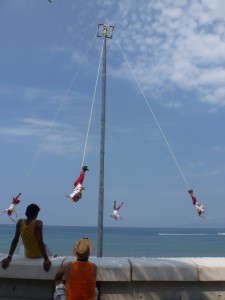 After awhile it can get tiring, but it's all part of the Mexican shopping experience, as is the necessary bargaining!  One gift item started at $30 and we ended up at $5!  As you walk the path along the water, beautiful statues and artwork offer great photo ops.  There are also unique entertainers along the way working for tips as well as many restaurants.
If you'd like to enjoy more of nature, a visit to the El Salado Mangrove Estuary provides bird watchers a 415 acre protected urban estuary.   You'll take a boat ride through the lagoon and see various bird species, crabs and maybe a crocodile!  Be sure to pay a visit to the CasaMagna Marriott where they host a turtle release program.   You'll have the opportunity to learn what they do with the hundreds of turtle eggs and send a baby turtle of your own back into the ocean after it has hatched.
If extreme activity is more your style, Vallarta Adventures is the outfitter to check out!  You can fly down the largest and fastest zipline at nearly 4,000 feet and speeds of 60 mph!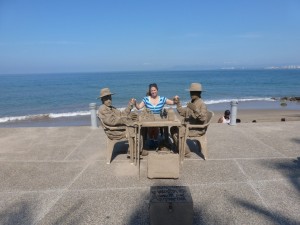 In addition to zipping from tree to tree, you'll rappel off of elevated treetop platforms, climb a wobbly 50 foot ladder, and swing like Tarzan.  There are also a few scuba dive shops, and Mike's Fishing, which provides fishing and snorkeling  trips while taking in the beauty of Banderas Bay.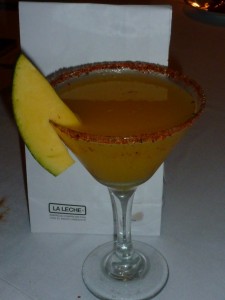 If you're looking for a fun night out on a boat with a mixture of comedy, dancing and a great martial arts show by the ship's pirates check out Marigalante's Pirate Ship Adventure, which includes dinner and the show.  It's another great way to see the gorgeous sunset.
While we ate most of our meals at the hotel, a really hip restaurant with great food and drinks prepared creatively, is La Leche, where the decor is comprised of white milk cartons and the food is local and delicious.  Another more casual and fun restaurant with good food (we had appetizers here, but they serve a full menu) is El Arrayan.
So even if you just spend a few days in Puerto Vallarta, like I did, you will leave refreshed and relaxed and connected to your significant other. If you travel on your own, it will be the perfect getaway to recharge your batteries.