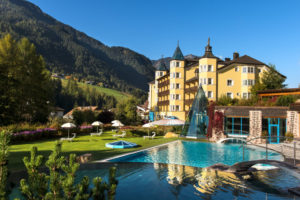 After I gave birth, I wanted nothing more than a wellness retreat – somewhere I could go to finally sit in the sauna, steam rooms, be pampered and feel like a human again.  Unfortunately, most retreats like that have a rule against bringing babies, which is understandable.  However, the gorgeous property of ADLER Spa Resort Dolomiti located in the Dolomites does allow babies and children but one would never get the sense that there are kids everywhere. They generously hosted me and my family for a few days so I could experience all this property has to offer for individuals, couples and families looking to be active, unwind, eat amazing food, and/or detox.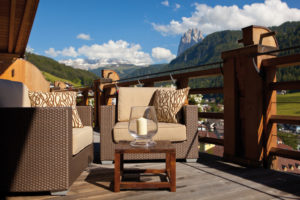 ADLER Spa Resort Dolomiti is located in Val Gardena, one of the best and most popular holiday regions in South Tyrol.  It is in northeastern Italy's Dolomites mountain range, named a World Heritage site by UNESCO, just one hour from Austria and an easy three hour drive from Venice.   It is a popular ski destination, but I thought also a perfect place to be in May.  The air is refreshing but not cold and the scenery around you is breathtaking.  Sitting in one of their outdoor whirlpools, panoramic sauna, heated swimming pools, or area for relaxation, one can stare at the snowcapped mountains and green landscape endlessly.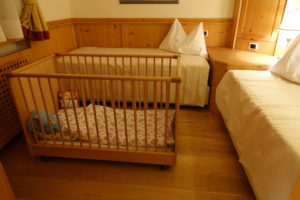 Once you're at ADLER Spa Resort Dolomiti, you don't have to worry about a thing.  Meals are included in the half and full board option and they include a breakfast buffet with fresh breads, prosciutto, yogurt, cereals and nuts, an egg and waffle station, as well as, smoothies and a variety of juices.  Lunch is a light buffet and dinner consists of a buffet of salads, desserts and breads and a sit down menu with a wide selection of cuisine from around Italy with German influences since it is so close to Austria. The menu features dishes such as seabream, ox, king crab meat, scallops, calamari and a vegetarian and kids section.  You will definitely not go hungry and the food is top notch.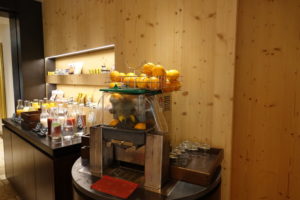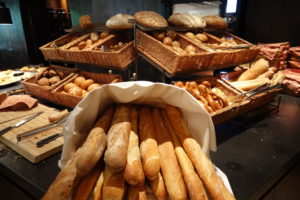 While ADLER Spa Resort Dolomiti organizes a day full of organized hikes and e-bike tours and gives you passes to take the cable car ride to Mont Sëuc and the train up to Resciesa, you can easily spend your entire day on property enjoying the spa.  The views from both Mont Sëuc and Resciesa are incredible and Resciesa is a nature park where one can spend a few hours.  The hotel can provide a hiking backpack you can use with your baby or child and a stroller free of charge.  There is also a shop nearby that rents the equipment for the day.  In addition to the hikes and e-bikes, they offer guided relaxation tours, gym classes and have a full gym.
The spa is incredible.  It includes a turkish bath, salt grotto, where one can float to the peaceful music heard under water. After your floating session, relax in the himalayan salt sauna known for its detoxing properties.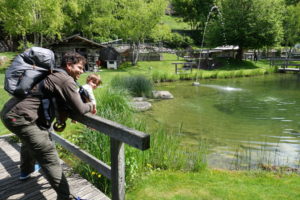 Each day, they have a ventilation in the panorama sauna and a salt peeling in the turkish bath. They were both new, invigorating and definitely unique experiences.  I felt thoroughly relaxed and detoxed.  The spa is co-ed with a woman's only section as well.  The spa offers facial, body and hair treatments and has a wide menu of options including ayurvedic, asian and interesting massages including one that involves honey being poured and kneaded on your back.  The therapist uses various techniques that allow it to get deep into the muscles.  The facial treatments offer something for everyone from regeneration for aging skin and jetpeel, an innovation rejuvenation system through which vital elements are introduced deep into the skin without needles.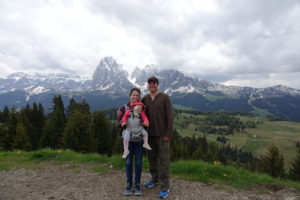 In addition to having a top of the line spa, ADLER Spa Resort Dolomiti has a full medical facility with doctors that offer a free consultation and can perform a variety of tests and blood work for food intolerances and tests for your intestinal flora. You can also take advantage of skin treatments for toning and increased collagen production.
So whether you are going for a little R and R or would like to do a reboot and detox, ADLER Spa Resort Dolomiti is the perfect place.  While the closest airports are a few hours away, it is well worth the drive. We drove from Venice and it took us around 3.5 hours.  On the way there, I listened to google maps and we took a very windy trip. While it was not for the faint of heart, the views were spectacular.  I later found out we could have taken highways straight there and while I loved the views, we were appreciative to take the straightforward highway route on the way back to Venice the morning we flew out!  You will thank yourself for booking a few extra days onto your Italy trip and spending them at ADLER Spa Resort Dolomiti, or even better, just take a week and stay there exclusively!