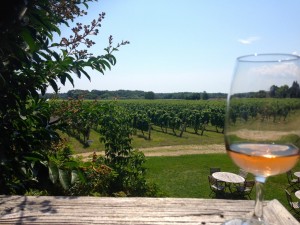 I grew up on Long Island. Yet, surprisingly enough, I had never been out east to the North Fork, known most predominately for its numerous vineyards, large and small. Upon arrival, I couldn't believe I had never seen this part of the island sooner! It is the perfect place to celebrate a bachelor or bachelorette party, have a wedding, or a romantic weekend getaway with your significant other. There are many options for exploring, including hiring a car service, driving yourself (which I wouldn't recommend) or biking to the vineyards, since they are so close to one another. However, I wanted something romantic, yet also fun and unique.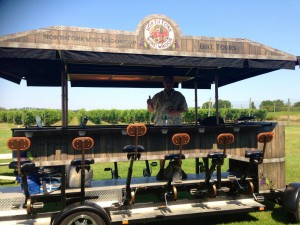 For the romantic part, I stayed at the beautiful Wells House Bed and Breakfast, and for fun, we hired Michael Roche and his Wine Wagon. With room for 15,  we all helped pedal our way to the vineyards while he steered, rocking out to our favorite tunes. He can hook up our own phone's music or use his own and take requests!  Since there were just two of us, we joined a larger group, which was a great way to make friends along the way!  He will give you a central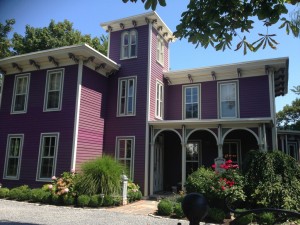 meeting point in Peconic and then take you to a few wineries and the Greenport Harbor Brewery Company. If you have certain wineries in mind,  the tour can be customized to your preferences. He can be hired for either three or five hours. This is definitely an extremely fun and unique way to see some of the most beautiful wineries.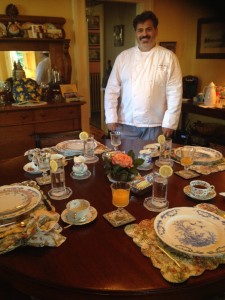 Most of the wineries are in Peconic. However, only a few minutes away is the lovely town of Greenport. Greenport has a quaint downtown area with great clothing and antique shops, the obligatory ice cream establishments, and some terrific restaurants. Within walking distance to all of this is the stunningly historic Wells House Bed and Breakfast. Vince Albert, a pioneer in the International Logistics and Sourcing industry for 30 years, is the owner, and will make you feel at home immediately!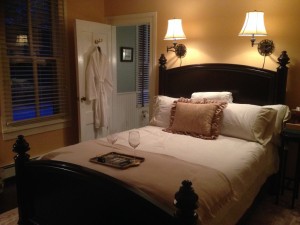 He is incredibly friendly, full of knowledge about the area and will recommend things to do and restaurants to check out during your visit.   Did I mention he also makes an incredibly delicious breakfast?  He will proudly show you around the beautifully restored European style home and unlock doors to historical treasures.
The home was commissioned by Captain Wells, a married father of eight, and successful whaling captain before the Civil War. The following owner, David C. Petty, owned a popular bottling company whose bottles were handmade of blown-glass. Two examples are on display at the bottling museum in the Midwest, and the other at the Wells House.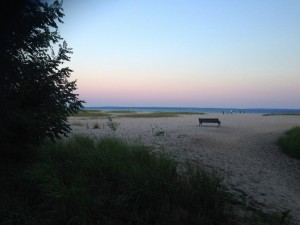 This is just one of the many antiques collected over the past thirty years, with over 80% of them at least 100 years old. You can get lost in the stories that fill each room.  While there is plenty to do in addition to your vineyard tour, like stroll through Greenport, along the beach, or take ferry and bike ride to Shelter Island, make sure you leave enough time to enjoy the tranquility of the Wells House.
So whether it's your first time to the North Fork or you've been before, there is always a new winery to explore, beach to uncover, or romantic bed and breakfast to enjoy. You can read more about the Wells House here: thewellshousebnb.com and Michael's wine wagon here: northforkwinewagon.com.