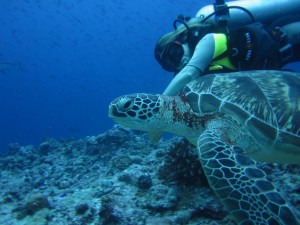 As I tumbled backwards off the dive boat into the crystal turquois and green waters of Palau for the seventh time, the excitement of what I was about to see beneath the ocean filled me with such joy and anticipation.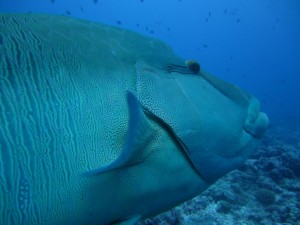 I have been certified for three years  and the underwater life is different with every location, but in Palau, not only did I have the opportunity to see such huge fish like the napolean wrasse, but I was also amazed that in the same dive, I could watch the fish, sharks and turtles interact in the same space.  Right in front of me swam the sharks, swirling around in my natural underwater aquarium.  I dove with two dive shops while on the island and they both provided memorable experiences. For the first few dives and my night dive,  I dove with Sam's Tours and immediately upon walking in their dive shop, I felt at home and well taken care of.  Before I had even arrived in Palau, Marc Bauman, the general manager, emailed us to see what we wanted for lunch on our trips and as I walked into the shop, he was right there to help me with the moisture capsules I had bought for my camera.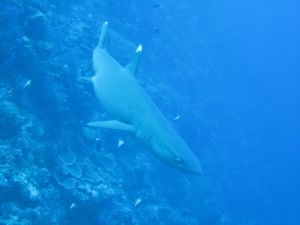 I had also noticed my dive watch had lost it's battery life as I was packing it, so while I was out on my dive, he and Mike, the operations manager, sent someone into town to get me a new battery, and in the meantime, lent me one of their dive computers.  The guys who got all my equipment together were extremely organized and thorough and the equipment was all new, as they replace it every year.    This is very important to me because at some dive shops, you feel like you're just a number and you're lucky if you get fins that fit right and aren't from twenty years ago.  The personalized attention can make a big difference.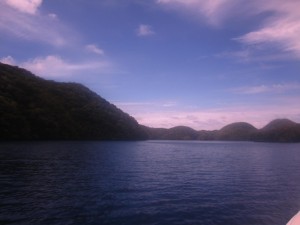 When three of us decided we wanted to do a night dive, they sent out a boat just for us.  Dexter, who is one of the most experienced dive masters on the island, made us feel very comfortable, as it was one girl's first night dive.  Not only is Sam's a spacious dive shop, they also have a bar and restaurant on the grounds, which makes for a fun place to hang out after a day of diving.   In addition to the dive operation currently in place, Sam's will be launching a liveaboard called the Siren.  I saw the pictures of the boat and it looks amazing…pure luxury and diving for seven days.  They are already booked for the next three years, but they do have some pockets of weeks available.
The other dive operation I spent a couple of days with was Fish 'n Fins.  While each boat trip had more people on it than the dives with Sam's, the attention to detail was not sacrificed.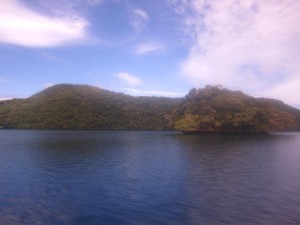 Loreen will most likely be with you on your dive or snorkel trip.   I forgot to mention that while many people flock to Palau for the diving, if you are a significant other or friend who does not dive, the snorkeling is spectacular as well, and many times you can go out on the same boat with your partner and snorkel in the same spot they are diving in.  Loreen is very careful in making sure all equipment is hooked up properly and is great at pointing out various things underwater.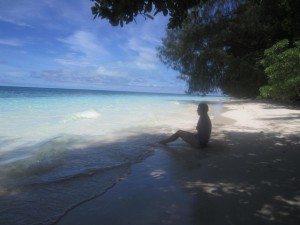 I was most appreciative on the day I forgot my permit for jellyfish lake in my luggage and she asked the driver of the boat to stop by the hotel on the way out so I could run and get it.  Otherwise I would not have been able to snorkel jellyfish lake, and if you are in Palau, this is an absolute must.  If you get there in the morning when the sun is beating down on the water, you will be treated to a magical, almost spiritual experience.   With a gentle touch, you can feel them in the palm of your hand and let them move along your body.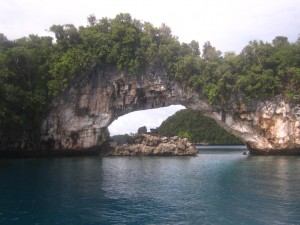 The beautiful jellyfish do not sting and are a breathtaking site.  Another stop on your snorkel/dive tour will most likely include the milky way, where you can collect limestone from the bottom of the water and rub it all over your body, and it's been said to be great for the skin and take years off of you!  It also makes for a very fun picture!  
For lunch, you'll get to stop at one of the beautiful beaches throughout the rock islands, and relax in a hammock, play in the water, or just find a coconut to enjoy with your meal.  Nothing compares to the gorgeous waters and white sand of Palau for true romance, or just a fun trip with friends.  It's hard not to fall in love in Palau with such beautiful scenery around you.
There are various options for hotels in Palau depending on your price point. 
For a really romantic stay with all the amenities you'd expect from a hotel in paradise, you'll want to stay at the PPR or the Palau Pacific Resort.  Situated on the ocean, the rooms have terraces where you can sit and take in what has to be one of the most colorful sunsets I've ever seen.  The breakfast buffet was the best we had in Palau with a variety of Japanese and American dishes, as well as an egg and ramen soup station.  Indulge in a spa treatment in your own private villa with your significant other or a friend.  They have rooms for couples in which you can get side by side treatments, and share a bath while listening to nature's sounds right outside.  The fourth wall is open so you can hear the natural sounds of the birds and the ocean.   Since I had experienced the milky way limestone earlier in the week, I decided to get the real milky way treatment, in which they start with a peppermint foot treatment, followed by an aromatic coco vanilla body scrub to soften the skin and prepare it for the detoxifying white body mud.  While you're wrapped in a cocoon, they will massage your scalp and then finish off the treatment with a fifty minute hot stone massage.   It is impossible not to be totally relaxed after this amazing treatment.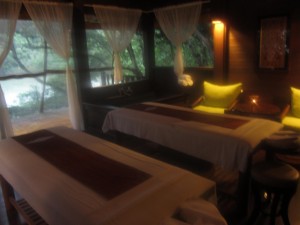 If you plan on keeping in touch with friends and family via the internet in Palau, you should know that connections can be extremely slow, but at PPR, the internet was quick and complimentary with your room stay.  You could also access it in your room, while many properties just have lobby access.  While the Palau Pacific Resort would be my first choice for a stay in Palau, it is also one of the more pricier resorts, so if you're looking for something more economical, which may make more sense for you if you are out diving most of the day, other good options include the Landmark Hotel right next door to Fish 'n Fins and the Palasia Hotel, in the center of Koror.   If you'd like to hear the sounds of nature as you fall asleep, the Rose Garden Resort is a nice option with a good Asian restaurant and bar downstairs.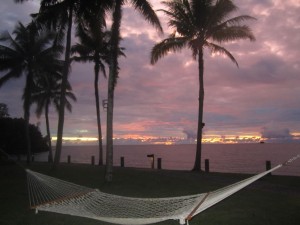 However, the only way to get to the rooms is by steps, as you enter from outside, so if you need an elevator, this property is not for you.  Each room has a nice terrace with a spectacular view, as you are high up above the ocean and landscape.   Another option for more of a luxury property is the Palau Royal Resort, but you don't have access to as big of a beach as you would at PPR, as it is roped off for the many boats that pass by.  However, the view from your room is still beautiful and the resort has all the amenities like a gym, spa, shops, computer center, and restaurant.
I have to admit when I realized it was going to take twenty five hours with layovers to get to Palau, I was a little hesitant.  However, I had two friends who had gone and said it was spectacular.  I couldn't be happier that I didn't let the flying time stop me.  While it is a lot of flying, if the flights and layovers go smoothly, you'll be fine.  I slept for part of it, read and watched movies for the other part.  I flew from Newark to San Francisco to Honolulu to Guam to Palau on the way there, but there are more direct flights as well.  On the way back, I flew to Guam, then Tokyo and Tokyo to Newark, which cut the flight time down.  Also, if you go through Honolulu, there are direct flights back to Newark.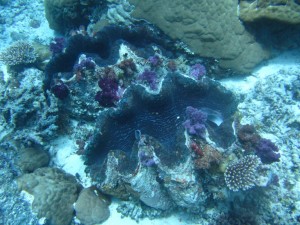 The biggest question I got when I told people I was going to Palau was, where is that?  Here is your answer:  it is located in the Western Pacific Ocean near the Philippines and Papau-New Guinea.  They really pride themselves on conservation and that is why when going to Palau, you can experience a diverse array of diving.  At 400 miles of the equator, Palau offers great weather and diving conditions year round.  You can see sharks, manta rays, go cave diving, snorkel and dive the drop offs, coral gardens, and wrecks.   Micronesia is beautiful, and again, while many go to Palau to dive, even if you don't dive, there will be plenty for you to do in addition to the great snorkeling.   You can kayak through the mangroves, which we did with IMPAC tours, take an ATV through the big island of Babeldaob, with its muddy dirt roads, rivers, ridges and pristine rainforest.  You'll get to see abandoned old villages and stone pathways.   You can spend a morning playing with the dolphins or taking a jungle river cruise to see the crocodiles and possibly see  a fruit bat hanging from the tree eating a banana.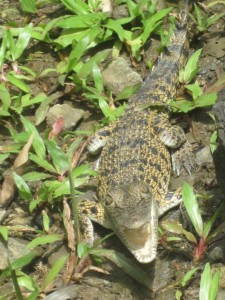 If you are brave enough, you can sample fruit bat soup.  It is a delicacy in Palau and you can find it at some restaurants.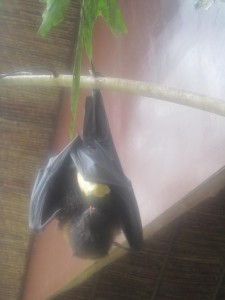 On our last night there, we had dinner at the National Museum and waiting for us with dinner was a bat sitting in a coconut milk soup.  I will try most anything at least once, and so of course as disgusting as it looked to me with its head still attached, I took a tiny piece of the meat, but I just couldn't do more, as I was about to get on a long flight and did not want to chance it.  Plus, the potent smell did not help make it any easier to ingest!
My week in Palau was one that provided me with wonderful, unique memories that will last a lifetime.   I am so thankful to Visit Palau for giving me this opportunity and I hope you too will discover the beauty and magic that is Palau for yourself.