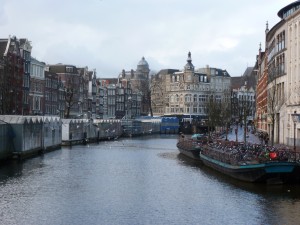 For years, I have heard so much about Amsterdam, but mostly just about the red  light district and the fact that you can smoke pot legally, with coffee houses offering up a menu of more than just coffee.  However, no one ever talked about the outright beauty of the city with its gorgeous canals filled with swans or the incredible architecture and array of museums.  Amsterdam really does have it all.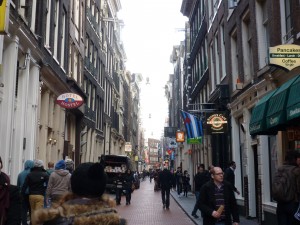 I got there on a Saturday night, so of course my first stop had to be the Red Light District, as I had heard so much about it.  It's an area of a few blocks off of the China town and gay section of the city and gets its name in part because the girls are standing in doorways or windows that are lit up in red neon.  They are dressed in lingerie or in a themed outfit, like the typical schoolgirl.  I was walking around on my own, when a very funny guy from Ireland stopped me and asked if he could take my picture, as I was just taking scenery shots.  After that, we pretended to be husband and wife and do some window shopping.  Here's a tip: comparison shop if you are interested, as not all women are willing to do the same things and the prices will vary!  Of course I had to do some research, but the research stopped there!  Aside from the window shopping you can do, there are some great bars and coffee houses and it's just a fun area in which to go out and meet people.  Ladies, maybe you're thinking, what is there for you there?  The answer: lots of men!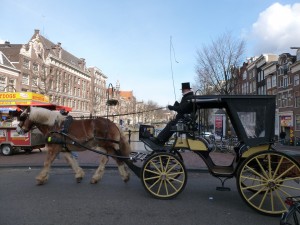 You should look into a city pass when you get off the train in central station.  The tourism and information office is right across the street and this should be your first stop.  They will answer all of your questions and sell you tickets to various tours or as I mentioned the city pass.  They sell 24, 48 and 72 hour passes and it includes entrance to many museums for free, discounts at various attractions and restaurants and even free gifts from some shops.   Plus, it comes with a transport card which entitles you to free tram service for that time period.  There are many tram lines throughout the city and they run quite often, so while it is a walking city, after a long day, you may just choose to hop on the tram to give your feet a rest.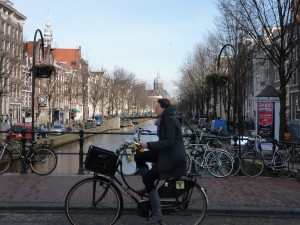 The next day I took a canal cruise, which is a good way to see a lot of the city from the water.  Another option is a free tour that is offered twice daily at 11am and 1pm and you can meet them at either Central Station or in Dam Square.   The three hour walking tour will give you a good sense of the city.   After the canal cruise, I decided to explore on my own, and I walked through the shopping area near Dam Square and visited the Anne Frank House, which should be on the top of your list of things to see.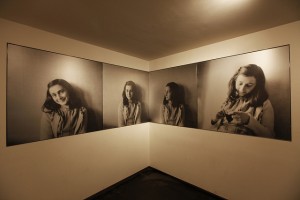 This museum is not included in the city pass, but the 9 Euro admission is well worth it.   You will actually walk through the house where Anne, her family, and family friends hid during the war and learn all about the family's life and what they and other Jews went through under German control.   The museum features videos, personal commentaries from people who knew them well, entries from her diary and an easy to follow explanation of everything that happened.  Be prepared to be moved by this experience.
I spent my third day visiting some of Amsterdam's well known markets in Albert Cuyp and Waterlooplein, what used to be the Jewish area and still houses the Jewish Museum and Portuguese Synagogue, which were also neat to see.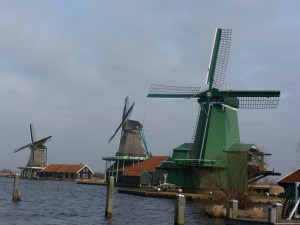 Be prepared to do a lot of walking, but do not fear, there are a ton of things to eat everywhere you go, from Turkish, Indonesian, and Argentinian to stands with waffles piled high with fruit and chocolate, French fries and lots of pastries.   As I said, there are a lot of museums, the most popular being the Van Gogh Museum, and museums teaching you about diamonds and genevere  If I had more time I would have visited the Heineken Experience.
When choosing a hotel, you can pretty much stay anywhere, as it is easy to get around.  However, if you plan on going out late at night, the trams do stop running shortly after midnight, so you'll want to choose a hotel close to where you'd like to go out.  I recommend staying in either the Central Station area or Dam Square.  I stayed at the NH Hotel Museum Quarter, which was close to Leidesplein, also a popular place to go out, and home to the Holland Casino.  However,  I was pretty far from the Red Light District, and after a long night, I didn't want to walk thirty minutes to get back.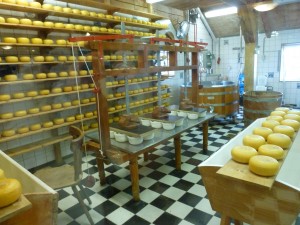 Of course, cabs are always an option as well, but hotels are so reasonably priced, that I would just stay in a central area.  That being said, the NH Museum Quarter was a comfortable hotel and very reasonably priced.  They offer free wi-fi, but only in the lobby, which is a little bit of a drag, but for a fee, you can get it in the room as well.  They will give you a 30 minute code to use and you can get as many as you need, and being that there are so many NH hotels throughout the city, you can always pop into any one of them and hop online.  Having popped into a few of the others, the lobby and reception area looked really nice and you probably couldn't go wrong choosing any one of them for your stay.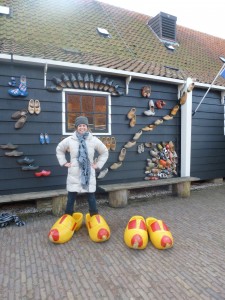 The city central of Amsterdam surely has enough to do to keep you busy for a few days, but I think you should also allow yourself some extra time to visit Zaanse Schans.  While it caters to tourists, it is still a fun experience to see functioning windmills, some that have been around for many years.  I went inside one that chopped wood, all powered by the wind.  Truly amazing.  There is also a clog making demonstration and a cheese demonstration with samples and the opportunity to take home some great local Holland cheese.  There are also two museums, one that shows you how the famous biscuits and chocolate are made and just the smell you inhale  walking through there is enough to make you want to have one of their chocolate bars for breakfast, as I did.
Many go to Amsterdam for a long weekend or in conjunction with a trip to other countries.   While the reputation that carries the country is mostly tied to the red light district and legalized marijuana, I can't stress enough how beautiful and romantic the city is.  When the weather is nice, be sure to rent a bike as well and drive around the city and countryside, but make sure you know the rules because those cyclists mean business!